Bubbles is a female townie. She is a famous TV and Pop star.
 Appearance
Edit
Bubbles is a pretty bunny with tan-gray fur. She has shiny pink hair tied in a ponytail and sprinkled with glitter. She has wide pink eyes, an excited smile, and bold blush on her face. She wears a white shirt with a pink bow on the chest, a pink plaid skirt, and pink shoes. She has a pink bow with a yellow star in the middle, and white cat-eye glasses. She holds a white-and-pink microphone in her hand.
Personality
Edit
Bubbles is cheerful and energetic, and takes an enthusiastic approach to life. Her charisma helped her become famous and gain many fans. At times, Bubbles can be a competitive diva.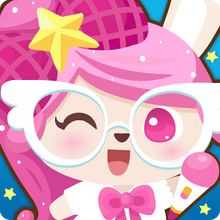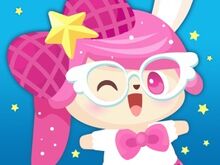 While walking around:
When chatting: