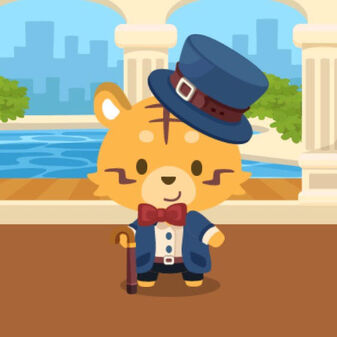 Mojo is a tiger and is the mayor of Happy Pet Story, who also your tour guide. He can be found wondering around the town in a blue tophat, blue tuxedo with a red ribbon and a walking stick. His house isn't located in the town,but you can go there by tapping the friends then following. 
Walking around :
"A gift from me, to you."
If spoken to:
"Work hard, Play hard and love the word! World peace! Breathe the air!"
"Thomas brings excitement to us by transporting us to new places! Explore more to get fresh ideas!"
"Keep the city clean and green makes the town better for you and me!"
"Biskit's passion to food is the same as my passion to make the town clean!"
Mojo has 6826 home points
You can get his furniture by using the Invite Bonus .